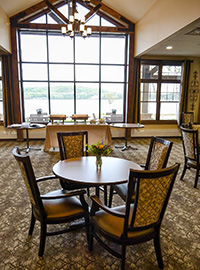 Teal Lake Senior Living Community is an elegant 32,000 square foot community designed to incorporate dining and private dining rooms, television and sitting rooms, activity, therapy, beauty/barber shop, storage area and administrative area. There are 38 resident apartments, and the community is perched on the top of a bluff overlooking  beautiful Teal Lake. A multitude of services and amenities are offered for our residents as part of the monthly rental fee. They include:
Lodging in an unfurnished room; furnishings provided upon request and for an additional fee
Three nutritious meals daily, plus snacks
Special or therapeutic diets prescribed by a physician
Cleaning of the resident's apartment daily, along with laundry and fresh linens daily
A program of social and recreational activity with daily reminders of these activities
All utilities (Resident is responsible for installation of personal telephone and monthly telephone service and charges)
Teal Lake Senior Living Community is a special combination of housing, personalized supportive services and healthcare designed to meet the needs (both scheduled and unscheduled) of those who can benefit from help with activities of daily living. Teal Lake Senior Living Community covers a wide variety of needs and can work for just about anyone. Some residents need help cooking for themselves or taking daily medications while others require assistance with bathing or dressing. This can be a concern for their family as well. Teal Lake Senior Living is a perfect solution for you both. For others, they simply choose assisted living as a means to enjoy the productive social life offered.
Regional Senior Living Communities
Local Links of Interest
Health Care Information